What does it mean to take responsibility?
For us, it all started with quality products. And it still does. Because TENA has always been about caring for people. Improving their lives, and helping them live with dignity and confidence. That doesn't change.
But it always meant being ready to learn, too. And as we gained a deeper understanding of our connection to each other and to our environment, our definition of care grew deeper also. Compelling us to care not only for people, but for the planet. Today we are committed to this greater scope of responsibility, and we're as dedicated as we have always been to making a better mark.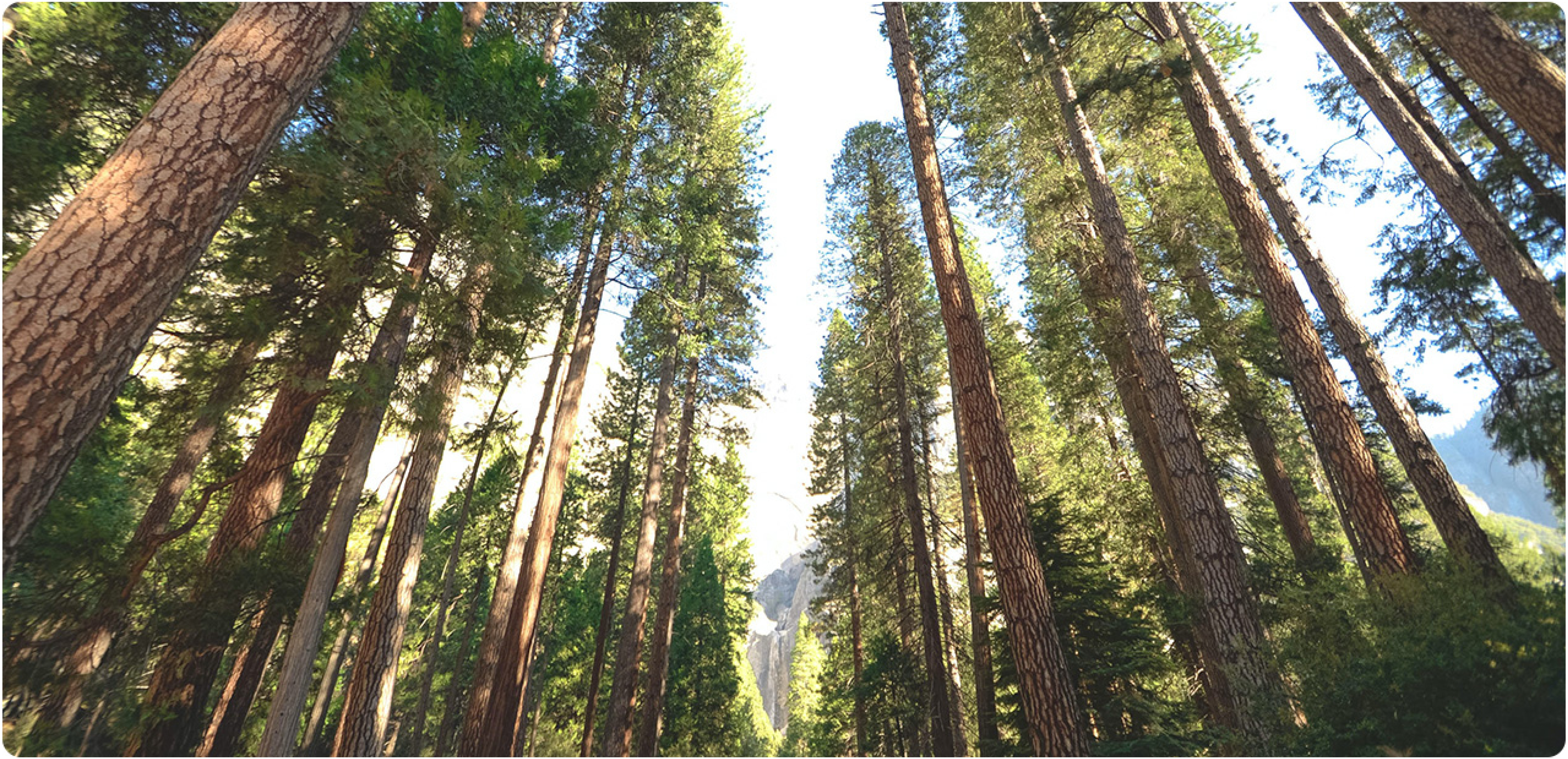 It's having a plan for the future, with our TENA Protects Program.
Since 2008 we've been taking steps to make every TENA product more sustainable. Converting to 100% renewable electricity in all our factories. Reducing the carbon footprint of our products and services by 50 % in Europe by 2030. Step by step, to leave a better mark on the planet.
It's breaking barriers to well-being.
Like the other brands in the Essity family, the mission of TENA is to help people live happier, fuller lives. Many of our recent innovations – such as the highly absorbent TENA Flex, the comfortable and thinner TENA Pants and TENA Slip, and TENA Comfort with ConfioAir – have not only increased hygiene and health standards for millions of users and care-givers, but have done so while also reducing climate impact*.
We work hard to increase awareness, improve care provisions, and drive high-level dialogues around the world. We share our knowledge in hygiene and health by educating young people, and by promoting an open dialogue about incontinence, breaking down the stigma it often carries.
*Results for 2008–2015: 13% for TENA Flex, 23% for TENA Pants, 15% for TENA Slip and 19% for TENA Comfort
It's shrinking our footprint with every launch.
Ultimately, we know that great products aren't enough. Taking responsibility for the planet as well as for people means reducing our environmental impact, and making real contributions to a sustainable world.
Our work to fulfill the UN Sustainable Development Goals is in line with that responsibility.
One of these is Goal 12, Responsible Production and Consumption, where we can contribute by improving resource efficiency to reduce our carbon footprint. And we've already seen significant progress. Since 2008 we've reduced the footprint of our products by 11 – 33%, and we're on track to meet or exceed our goal of 50% in Europe by 2030.
Here are a few more targets we aim to reach by 2030:
We will reduce the carbon footprint of our products by half in Europe
We will cut 18% of carbon emissions in our raw materials, transport and waste.
Half of all our innovations will be nature innovations.
100% of Essity production facilities will convert all waste into useful materials or energy.
It's doing more with less.
At TENA we're continually discovering and innovating. Finding new ways to improve people's lives while also improving the environmental footprint of our products.
That means using superior materials, introducing smarter designs, and doing it all while using less energy that comes from fossil fuels. In fact, our next step is switching to renewable electricity at every one of our production sites, starting with the European ones.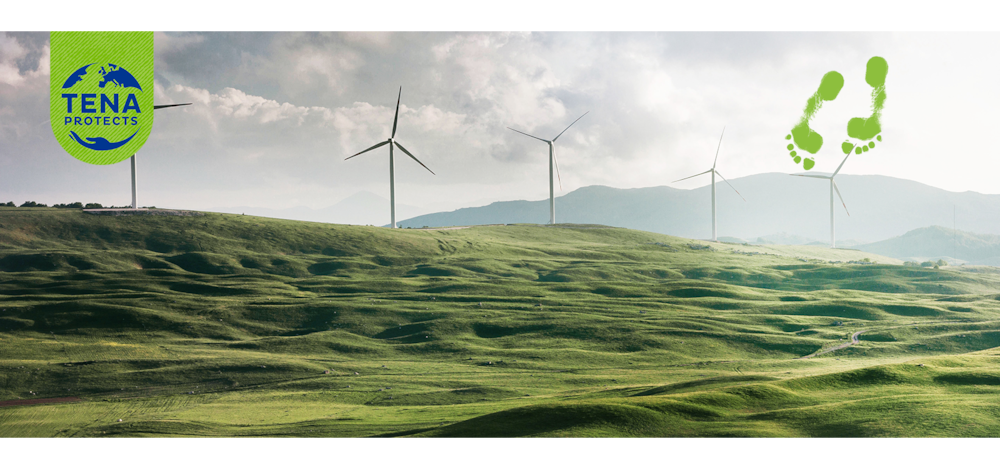 It's helping to build a circular society.
We want to design products and services for a society where less goes to waste, and more is recycled and reused. This is an ambitious goal, and to get there, we'll need creative thinking and entirely new business models and partnerships.
We already have a head start. For example, our company was one of the first 300 to sign "A line in the sand" – a global commitment to eliminate plastic pollution at the source. Honoring that commitment means we're constantly working toward our goal of 100% recyclable packaging, made of 85% renewable or recycled materials, by 2025, and converting waste from all our production units to material and energy by 2030.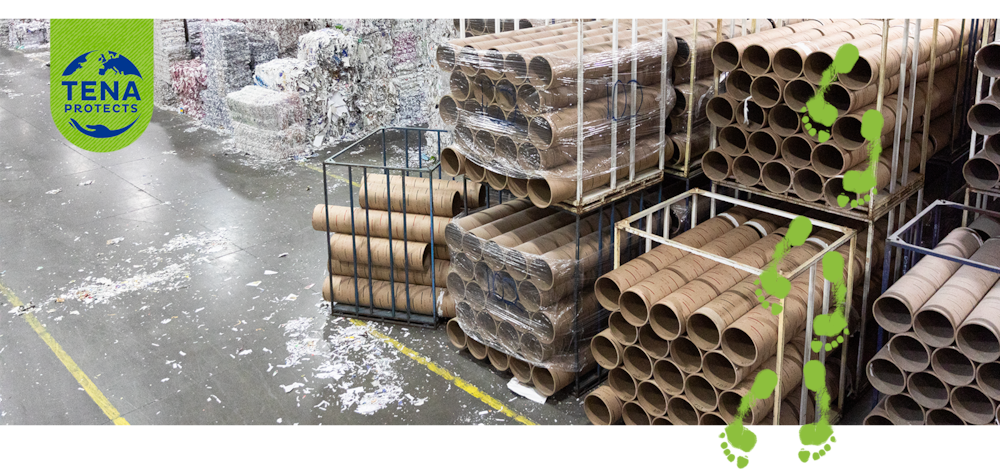 Here's how we're doing so far.
We achieved a recovery rate of 63% at Essity production sites by the end of 2019.
TENA Solutions service has seen waste levels reduced by up to 30%.
79% of fresh wood fiber-based raw material in Essity products and packaging was FSC® or PEFCTM certified in 2019.
It's empowering conscious consumers.
We all know we need to change our consumption habits to reduce our personal carbon footprint. But many people feel that the companies making consumer products should also bear some of that responsibility.
We agree. When you use TENA products, that part of your footprint becomes our responsibility. It's our job to help you lead a lower-carbon life without having to sacrifice your own well-being, or the well-being of your loved ones.
And we're getting there. Lowering our footprint, and yours, one step at a time.

TENA products are now more transparent than ever.
We've made the carbon footprint of TENA products available for anyone to see, along with a break-down of their ingredients.
Essity – a leading hygiene and health company
---
Essity is a leading global hygiene and health company. We are dedicated to improving well-being through our products and services. Essity breaks barriers to well-being and contributes to a healthy, sustainable and circular society. While each of Essity's brands have their own purpose, we all work together to achieve Essity's sustainability ambitions: improving the well-being of people every day, and creating better solutions with a lower environmental footprint. Find more information at www.essity.com.