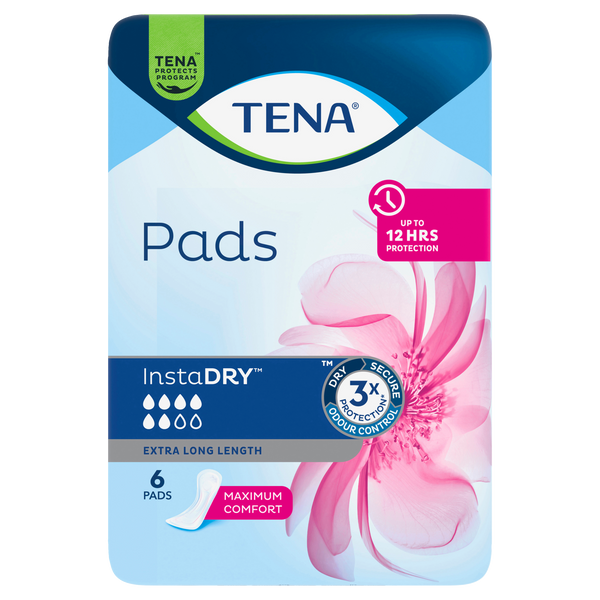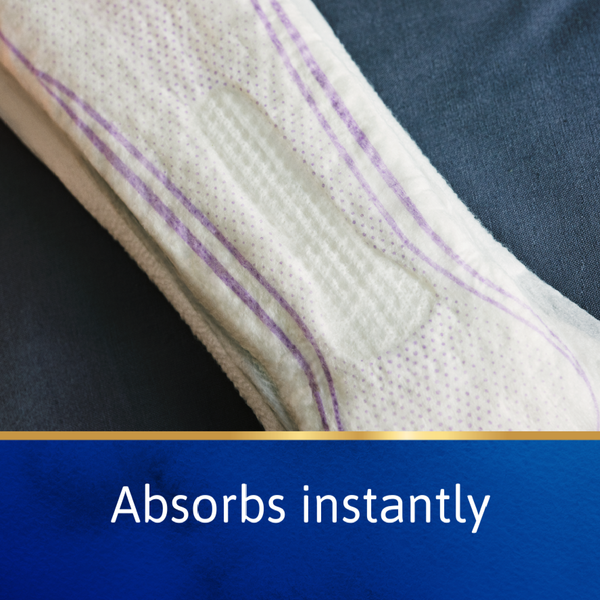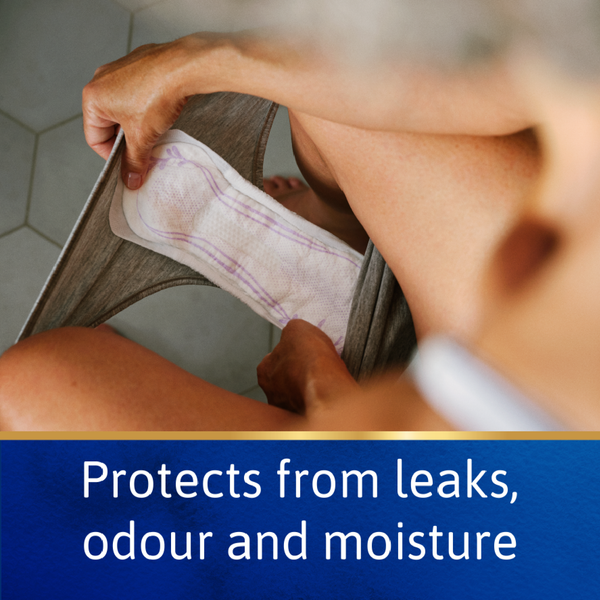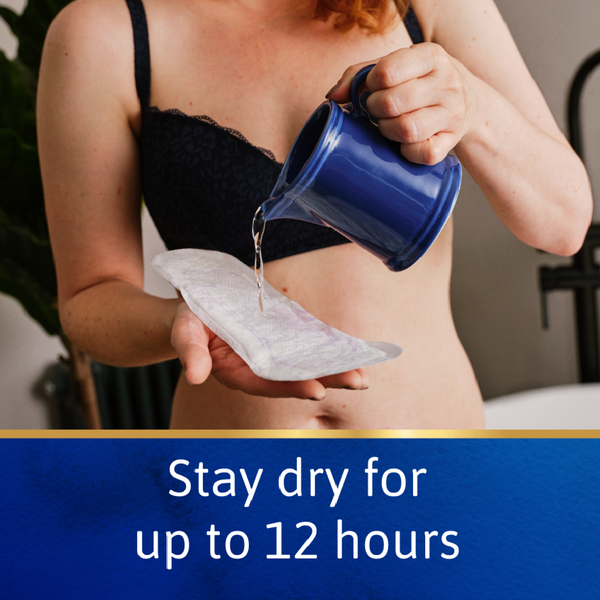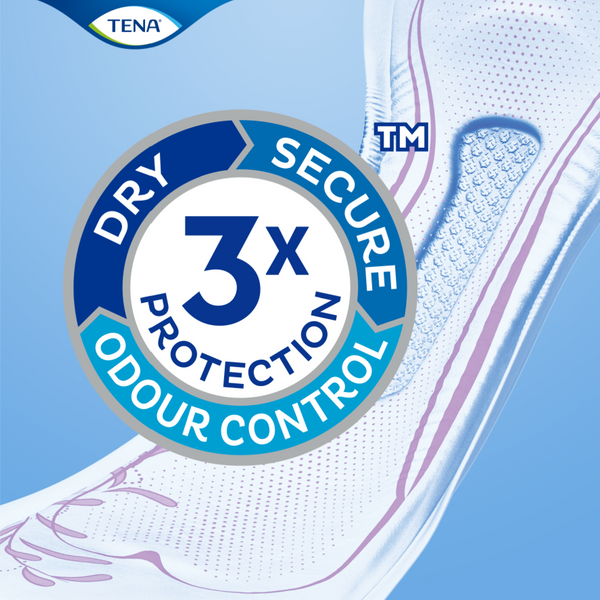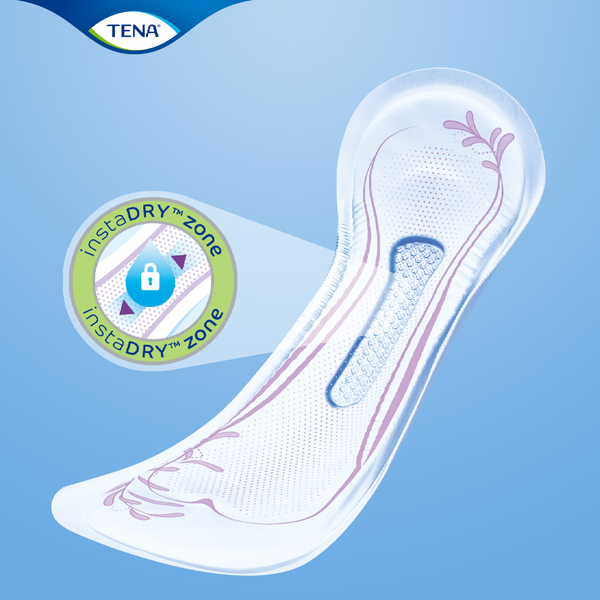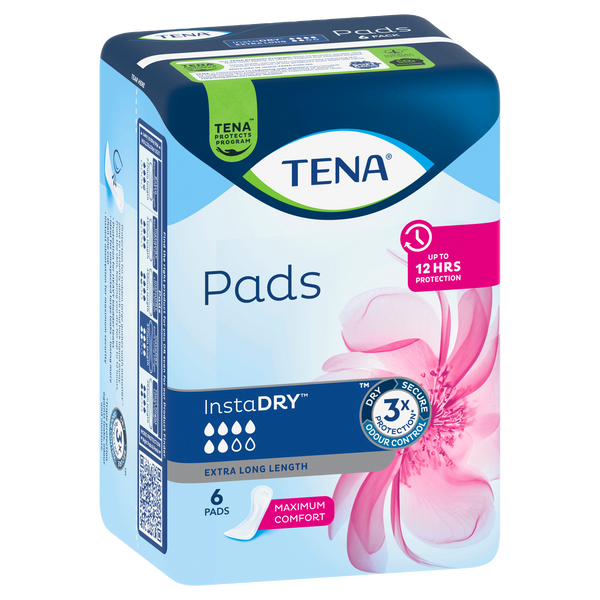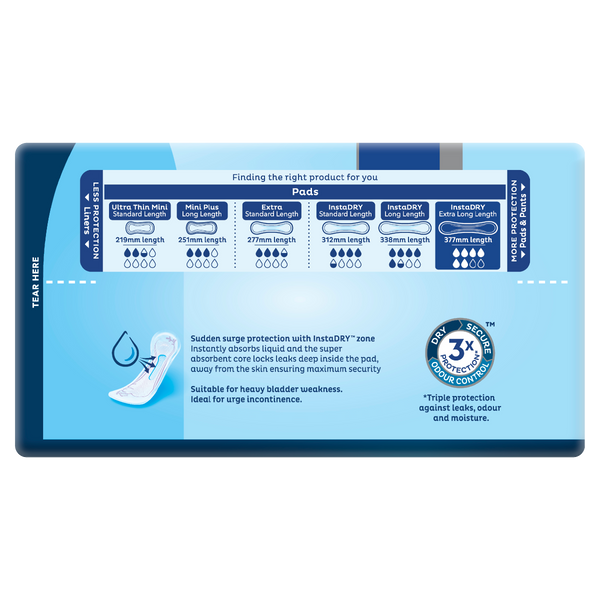 TENA Pads InstaDRY™ Extra Long Length
Improved TENA Pads InstaDRY™ Extra Long Length
Details
For women with larger, unexpected urine leaks, TENA Pads InstaDRY™ Extra Long Length is the ideal incontinence pad to use. For maximum security the instaDRY™ zone absorbs liquid in seconds and the super absorbent core locks even larger leaks deep inside the pad. Ideal for the gym, running and other high impact sports which can trigger a leak.

This comfortable bladder weakness pad has soft elasticated sides and gently adapts to the body. With Triple Protection from leaks, odour and moisture TENA Pads InstaDRY™ Extra Long Length is the ultimate everyday choice for any women with heavier bladder weakness. Feel secure whatever comes your way with instant absorption and comfortable fit.

- Thinner Pads, 100% as secure, 100% as absorbent.
- Patented InstaDRY™ technology quickly absorbs liquid deep into the pad and protects against bladder leakage.
- Asymmetrical shaped core offers a 3D fit which contours to the body for greater comfort, fit and security.
TENA Pads InstaDRY™ Long Length Pads have been renamed to the TENA Pads InstaDRY™ Extra Long Length.
Recommended for
Moderate to heavy urge incontinence - losing more than a cup before getting to the toilet

Bladder loss associated with menopause

Moderate or frequent stress incontinence when coughing, laughing or sneezing

For long-lasting security when out and about and access to a toilet may not be practical

For additional extra long length coverage 
Easy Ordering
Direct Delivery

Discreet Packaging
Easy Returns